Our Mandate
The Corruption Prevention Division (CPD) derives its mandate from Section 10 of the Corrupt Practices Act (CPA). The Act empowers the Bureau to take necessary measures for the prevention of corruption in both the public and private sector. The Division fulfils this mandate through working with public and private sector organizations to design and implement programs and interventions aimed at preventing corruption.
Corruption Prevention Organogram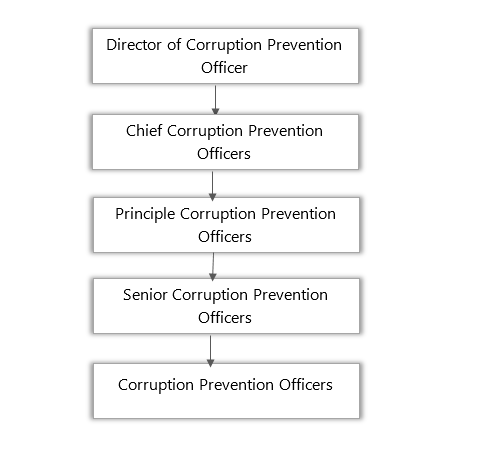 CPD Structure
1.The Director of Corruption Prevention. 2.The Chief 3.Five Principal Corruption Prevention Officers (2 in Lilongwe; 1 in Blantyre; 1 in Mzuzu; and 1 in Zomba)
4.Five Senior Corruption Prevention Officers.
5.Corruption Prevention Officers
Corruption Division Functions
The key function of the Division is fulfilling the legal mandate from section 10 (a), that is to take necessary measures for the prevention of corruption in public bodies and private bodies, including, in particular, measures for examining the practices and procedures of public bodies and private bodies in order to facilitate the discovery of corrupt practices and secure the revision of methods of work or procedures which in the opinion of the Bureau may be prone or conducive to corrupt practices and advising public bodies and private bodies on ways and means of preventing corrupt practices, and on changes in methods of work or procedures of such public bodies and private bodies compatible with the effective performance of their duties, which the Bureau considers necessary to reduce the likelihood of the occurrence of corrupt practices For the above legal mandates to be successfully fulfilled, the Division strategically plan its activities under the strategic goal of IMPROVED QUALITY AND ACCESSIBILITY OF PUBLIC SERVICES.

The Division intends to achieve the aforementioned strategic goal from 2020 to 2025 with the primary focus of three interrelated objectives outlined below:

To enhance integrity, transparency and accountability.
To strengthen prevention of corruption through partnerships
To enhance speedy processes of public service delivery
The Division has strategically planned to Undertake corruption risk assessment in selected institutions
Conduct integrity tests in selected institutions.
Provide support to IICs in various institutions.
Develop capacity of corruption prevention section.
Conduct awareness programmes.
Facilitate development of corruption reporting mechanisms.
Facilitate National Anti-Corruption Strategy.
Partner with non-state actors to undertake budget tracking in the council.
Partner with state and non-state actors in corruption prevention through either formal-MOUs- or informal –once off- agreements.
Develop partnerships with training institutions to provide capacity building on ethics and integrity to IICS through formal agreement Monitor effectiveness of e-procurement systems.
Conduct monitoring on adherence to standard operating procedures on selected public services, national programmes inclusive.
To undertake review of systems and procedures in selected institutions.
NACS II Implementation As a Stand-Alone Strategy
NACS II Implementation as a Stand-Alone Strategy NACS II inspires anti-corruption efforts in Malawi and has clear goals and a multi-sectoral and bottom-up approaches that calls upon all citizens to join the battle against corruption and build a nation where all citizens benefit from efficient and effective service delivery. Furthermore, NACS II is geared to facilitate an efficient and effective utilization of resources in support of the implementation of the country's development agenda. NACS II has provided clarity in the role of the ACB (herein referred as the 'Bureau') in its implementation.

This simply means that each Division/Department or Section of the Bureau is mandated to contribute to the implementation of NACS II. Refer to uploaded NACS I and II in the download

CPD as a Division of the Bureau is tasked to fulfil the strategic goal of improving the quality and accessibility of public services for the benefit of all Malawians.

The aforementioned goal, therefore, empowers the Division to systematically implement the NACS in line with the ACB Strategic Plan (2020-2025).
Sources of Funding
The following are the sources of funding for operations:
Government subventions-ORT
Development Partners
IICs
Partner organization
The Cost of Division Services
The Division does not charge for its services. Whilst the Division provides limited financial support to institutions that want to be assisted in putting in place corruption prevention programs, due to the fact that its resource-based cannot support all institutions it works with, it encourages a cost-sharing scheme which is discussed and mutually agreed with the client institution. Refer to the uploaded ACB Client Service Charter in the download
Our Clients
The following are CPD's clientele:


ACB Staff
State Actors (central and local government, parastatals-state owned enterprises)
Local government structures, specifically secreteriat
Non-State Actors (Private Sector, Inter-governmental organization, Non-Governmental Organization, Civil Societies, Multinational Enterprises)
The Associations


When dealing with state actors, we prefer to establish a governance structure, namely, Institutional Integrity Committee (IIC) which utilize 1% of Other Recurrent Transaction (ORT) budget. The establishment of IICs is enshrined in both NACS I and II. The preferred partnership agreement is Long-Term.

Long-Term partnership can either involve undertaking a series of interventions over a period of time or can involve going into a Memorandum of Understanding (MoU) arrangement in which specific activities will be undertake over a define period of time.

The partnership ranges from financial and technical support. However, non-state actors are most welcome to enter into a Long-Term partnership with the Division.

When dealing with non-state actors and the Associations, the preferred partnerships is Short-Term. This involves organizations coming to the Bureau/Division to seek specific advice on measures they can undertake to address specific corruption threats.

They can also involve instances where the client organization may seek our assistance in conducting initiatives such as workshops on a once-off basis. The partnership ranges from financial and technical support.
How You Contact Us
If you want to access our services or want us to provide you with more information, you can write to The Director General, Anti-Corruption Bureau, P.O. Box 2437, Lilongwe or fax your letter through 01 770 108.

Alternatively, you can telephone and speak to the Director General or the Director of Corruption Prevention (DCP) on 01 770166/ 088208963. You can also send an e-mail to the Director General on anti-corruption@acbmw.org.

You can also come in person to our offices at the Headquarters for the Anti-Corruption Bureau in Mulanje House, City Centre, Lilongwe and meet the Director of Corruption Prevention
Planned Activities for 2019/20 Financial Year
The Bureau entered into a Performance Contract with the Government of Malawi as a measure of Reducing Corruption Levels in Malawi. One among the three programmes which is in line with CPD mandate is 'to enhance public understanding on corruption, reporting procedures of corruption and strengthening national integrity system through promotion of integrity and transparency in public and private sector'.

The output of the programme in 2019/2020 Financial Year was to Strengthen prevention of corruption in institutions.

In order to achieve the desired output, the Division planned to carry the following activities:

1.Undertake risk assessments 2.Provide technical support to IICs
3.Train new IICs.
4.Monitor selected institution 5.Monitor selected national programs. 6.Hold section meeting 7.Conduct controlling officers' forum. 8.Conduct annual IICs conference. 9.Disseminate NACS I 10.Undertake supervisory visits 11.Attend International Conferences (SADC & Commonwealth) 12.Attend local training on supervisory skills 13.Attend international trainings on supervisory skills 14.Attend training at Commonwealth Africa anti-Corruption Centre-two modules 15.Conduct quarterly IIC meetings and produce quarterly reports. 16.Conduct Corruption Risk Assessments (for the Bureau). 17.Sensitize command & Management on Client Service Charter through their scheduled quarterly meetings. 18.Translate the client service charter into Chichewa.
19.Print roll-up banners and fliers for Client Service Charter 20.Sensitize Bureau Staff on Gifts and Hospitality, Whistleblower and Conflict of Interest Guidelines 21.Attend training in Corruption Prevention Strategies.